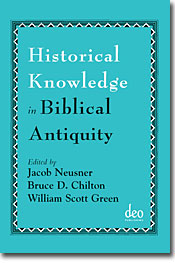 J. Neusner, B.D. Chilton & W.S. Green (eds.)
Historical Knowledge in Biblical Antiquity
Fourteen fresh essays by leading scholars (J. Neusner, B.D. Chilton, W.S. Green, L.H. Schiffman, A.J. Avery-Peck, G.W.E. Nickelsburg, S. Mason, C. Dewald, M. Aviam, G.G. Porton) ask two questions: What was the purpose of studying the past in biblical antiquity, and what sorts of information did the historians who produced Scripture in Judaism and Christianity seek in accomplishing their purpose?
Ancient Israelite and Greek historiography set the stage for a survey of how diverse Christian and Judaic writers defined the historical mission and carried it out. The Hebrew Scriptures, Gospels, Dead Sea scrolls, apocryphal and pseudepigraphic writers, Josephus, the Mishnah and the Talmuds all are asked to answer those questions.
ISBN 9781905679003 Pbk. 448pp. UK £29.95/ Europe £31.95/ ROW £33.95
For alternative ways to order: